A Wife in Progress
04/08/2013 - Author: Jennifer - 8 Comments
I remember when I got married.  I had found the one God wanted me to be with and it was the happiest day of my life. He (my husband) was my everything. Big mistake. Reality set in and I had lessons to learn.
My first lesson~~ my husband is human. We have disappointed each other as well as lifted each other up. We have hurt each other and helped each other heal. We have made each other laugh as well as cry. I didn't anticipate the negatives that came with the positives because we were a perfect match. Designed by God, if you will. Yes, our marriage is made by God, but we are human. So, disappointments will come.
Another lesson I have learned that has been painful~~ my words have power. I have hurt my husband's feelings with words that have made him feel inadequate as a husband~~accused him of not being a good husband when he was doing all he could do. The passage in the Bible about the tongue? James 3:9-10 9 "Sometimes it praises our Lord and Father, and sometimes it curses those who have been made in the image of God. 10 And so blessing and cursing come pouring out of the same mouth. Surely, my brothers and sisters, this is not right!" I am guilty!  I have edified my husband, then torn him down with my words. As stated above, this is sin. There is something else to see when reading verse 9~~ the part about being made in God's image. Anytime I belittle my husband, (or anyone for that matter) or when I throw insults or gossip or speak in any way that isn't edifying, I sin. I curse the best part of His creation because we were made in His image.
Yet another lesson learned~~we are all inadequate. This is humbling. My husband will not have all of the answers. When the hardships come nobody else can do what God can.  Only God can bring happiness, healing, peace, strength, and all other needs to make it through the day. To make it through trials. I can not rely on my husband to fix the areas of my life that are not going well. Yes, men have a desire to fix things, but sometimes, they can't. (That is a lesson my husband has learned). To rely on my husband, (or anyone else), to bring happiness is too much pressure. They.can't.do.it.
Now, when I say lesson learned, I need to point out that I am still a wife in progress. I have not mastered any of these. I am now more aware than when I became a newlywed. I am also more aware of God's grace in my life.
Be blessed:)
Since April is my birthday month, I have a giveaway. Enter this week for a chance to win one of my favorite things: Starbucks! I have a $15 gift card to Starbucks to giveaway to a random winner. Follow the instructions below for a chance to win.
The contest is over. Congrats to the winner Kim!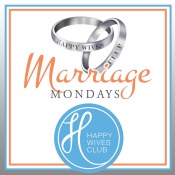 Categories: Uncategorized