The Unexpected That Led To Gratefulness
05/03/2013 - Author: Jennifer - 15 Comments
Today, was not a good day. An appointment with a new doctor did not yield the results I was hoping for. I was frustrated, scared, disappointed, discouraged, and felt lonely. It isn't a huge deal what the doctor said, but nonetheless, I was mad. I followed advice about prayer. Pray expectantly. Well, I did. I expected God to answer a certain way. I knew how I wanted Him to answer and that is what I expected from Him. Now, this isn't the first time this has happened and since I seem to be a repeat offender and can't learn lessons the first time, I doubt it will be the last time I will kldo this to myself. So, my theology was a little warped, but God loves me anyway. (I am trying. I am a work in progress. I will get better).
I called my husband Matt at work to tell him about the disappointing doctor's appointment. He didn't have time to talk, discuss, or whatever. Being frustrated and feeling alone, I really wanted him to talk. Like now. I was mad that he couldn't talk, so I started to shut down.I hung up on him, and not in a nice way.  Know what happened a few minutes later? My husband called me out. He texted me saying not to shut him out because he doesn't have time to discuss. Well, this is new, and I have a confession. I like it.
I like that my husband called me out. I needed it. I needed my husband to tell me that what I did was wrong. Now, this only works because he is doing it out of love. Love for me. Love for our marriage. He had no selfish motives behind this.
I truly do say this with a grateful heart. I know that it may not be popular, but I am proud of my husband. I am proud that he didn't back down and allow me to put a wedge between us. I am giddy that he didn't let me get away with mistreating him. This man of mine may have been prepared for battle because in the past, I would have made excuses, torn him down, and tried to manipulate an apology from him. I had no excuses. All I could say was sorry. Matt forgave me.
So, even though my theology could use some work, so does my heart. God is working in both of us, and today, I am seeing the results. It is awesome! I am grateful. For all of it.
Be blessed:)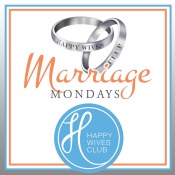 Categories: Uncategorized